DocuBank® Secure Digital Storage
You must have your Living Trust Power of Attorney Documents and all your estate plan documents in a secure and easily accessible location. Therefore, we recommend and offer our clients our attorney discount with Docubank so that you can have immediate access to your essential documents 24/7. All documents are held in a secure, digital vault. Most importantly, your Power of Attorney for Health is accessible separately by any healthcare professional, clinic, or hospital using your Docubank card and PIN #. Learn more about Docubank and how we can help.
What is DocuBank®?
Advanced Healthcare Directives are essential documents for a complete estate plan. Your Living Will, HIPAA Release, and Healthcare Power of Attorney provide critical information and authorizations to healthcare providers.
However, most people sign these documents and then proceed to put them in a safe deposit box or file them somewhere safe within their home. Consequently, they believe they magically appear when they are rushed to the hospital in an emergency.
We all know that the likelihood of having your Health Care documents when you need them at the hospital is not good at all. Moreover, having a family member retrieve them in your home, or worse, is even more troublesome in a safe deposit box or safe.
Unfortunately, even if you have already given your documents to your primary doctor, they are less than 50% likely to make it to the right people at the hospital in an emergency.
Emergency Preparation
If something happens to you while traveling, the hospital you have been rushed to will not have your healthcare documents. Further, if you are injured or take ill and find yourself at a hospital you've never been seen at as a patient, then your Advanced Directives are not available.
In an emergency, doctors will not know who you authorize to receive your confidential medical information. However, they will not know who you have appointed an Agent to make medical decisions for you if you cannot speak for yourself if they don't have access to your Advanced Directives.  Certainly, when time may be of the essence, this puts you at risk. Most importantly, medical providers may not know you have stated your wishes regarding artificial life support if death were imminent. Consequently, that means you can't be sure your wishes are followed. 
At Tuohy Law Offices, we want to ensure that you have immediate access to your Health Care documents. Further, we also want you to have 24/7 access to your Living Trust and Financial Power of Attorney. Moreover, your secure safe stores every single essential document, such as your vaccine card.
Tuohy Law Offices and Docubank®
We have partnered with Docubank to offer you a more than 50% discount from Docubanks yearly $55 fee for this service. As a result, your yearly fee will be only $25 for all Docubank features below.
DocuBank provides our clients with a wallet-sized ID card that lists basic healthcare information. First, the card includes easy-to-use directions and instructions for any medical provider to call DocuBank any time of the day or night, 24/7, 365 days a year. Secondly, your healthcare documents are faxed to them – or downloaded from DocuBank's secure website.
Secure Online Vault
Additionally, you have access to a secure online vault to store all your other essential documents. You will be the only person with access to your vault with your digitally encrypted password.
If you already have an estate plan, enrolling in DocuBank is quick and easy. We enroll you in Docubank and handle all initial paperwork. Further, we upload your documents after you sign your estate plan. Just contact us for an enrollment form.
The DocuBank Emergency Card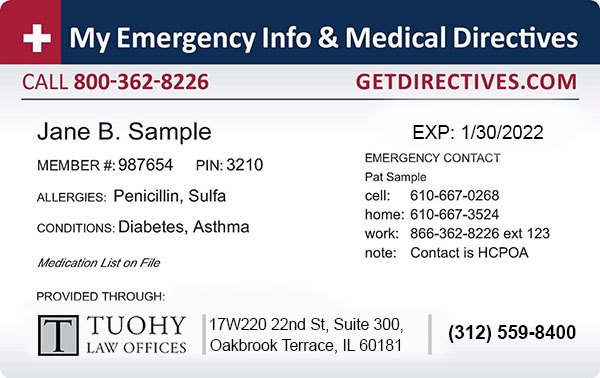 The DocuBank Emergency Card makes your advance directives immediately accessible 24/7. Hospital staff can obtain your documents via fax, or print them from the DocuBank website. Along with your directives, the hospital will also receive the names and phone numbers of your emergency contacts and physician. The card also lists allergies and medical conditions to help doctors provide you with the best treatment.
The DocuBank SAFE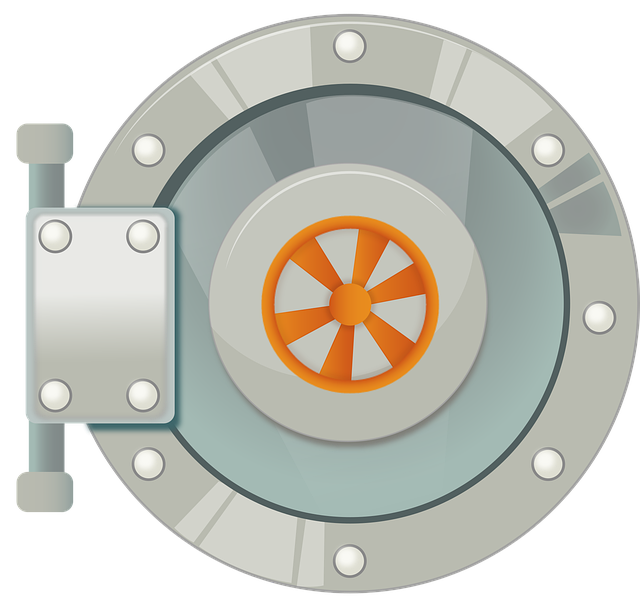 The DocuBank SAFE allows you to store all of your estate planning documents and digital asset information in one online location. This provides the flexibility of having important documents accessible anytime, anywhere in the world.
Already an existing DocuBank® member?
Update your emergency contacts, view your advance directives, or access your SAFE by clicking here to log in to your DocuBank membership online.
To contact DocuBank® directly, email info@docubank.com or call toll-free 866-362-8226

---

Advanced Toolkit
Tuohy Law Offices and Docubank offer the following list of complementary resources for you.
Estate Planning Form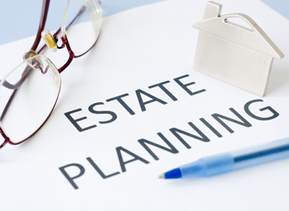 Download Now
Title Transfer Form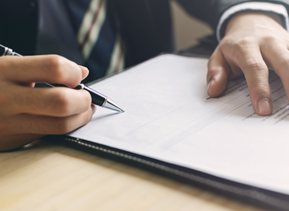 Download Now
Estate Planning Brochure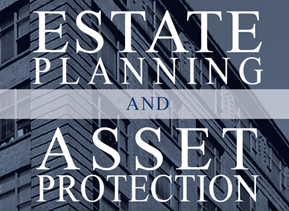 Download Now
Disclaimer: DocuBank® is a company independent of Tuohy Law Offices, and our law firm is not responsible in any way for the performance or non-performance of duties promised by DocuBank®